Self-service car washes
Self-service car washes – solid and functional constructions for years
Self-service car washes are gaining more and more supporters. As a result, there is a growing demand for this type of service. That is why our offer includes constructions made for the needs of self-service car washes. We design stand enclosures with a semi-circular or flat single-pitch roof. The roofing is usually made of trapezoidal sheet or polycarbonate. Then we fasten them on solid load-bearing poles. The designed solutions meet rigorous durability and operational requirements. In the production process, we use high-quality steel, which guarantees resistance to mechanical damage, the impact of adverse weather conditions and the effects of chemicals used in car washes.
In addition to strength parameters, we also take into account the functionality of the structure and its aesthetic values. Our self-service car wash projects are not only effective, but also effective. Using many years of experience, we suggest the best solutions. The long list of projects throughout the country confirms the high competence of our team. As a manufacturer of roofs for car washes, we deal with the entire process, from the design to the assembly of the structure on the indicated surface. This significantly improves the execution of the order and allows you to optimize the costs of the car wash.
Choose proven car wash roofs. Bet on solid, functional constructions and effective design.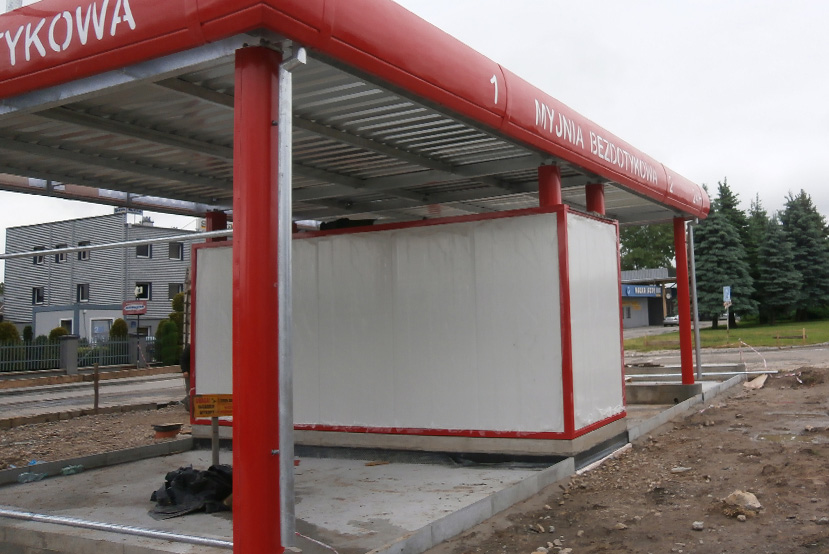 You need help? Contact with the sales department:
Check others products: